Diversity and Inclusion in the Curriculum Program | Summer-Fall 2017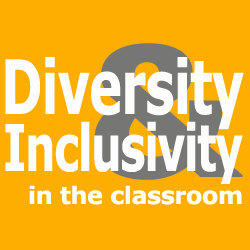 Creating a more diverse and inclusive campus is the responsibility of all campus community members, including faculty. This program is designed for Cal Poly educators who seek to weave diversity and inclusivity into their educational practices consistent with campus diversity learning objectives (DLOs). The program is intended to contribute to progress on two of Cal Poly's university-wide diversity imperatives: "enhance [the] campus climate" and "exemplify inclusive excellence in Learn by Doing, scholarship, teaching, and learning" (from the Cal Poly Diversity Strategic Framework). In this way, the program can help departments and colleges make progress on their inclusivity and diversity goals and to contribute to a more inclusive campus community. The integrated program described below introduces participants to the theory and practice of education for inclusiveness and provides support for applying those insights into course design and students' learning experiences.
---
Purpose
The purpose of this program is to strengthen faculty's expertise at creating educational experiences to enhance diversity and inclusion as critical aspects of student success in their Cal Poly education.
Program Description
This program creates a community of colleagues who collaborate to deepen their knowledge of diversity principles and to expand their repertoire of inclusive teaching practices. It begins in early summer 2017 and continues through Fall Quarter 2017. Those accepted will have the following opportunities to develop insights and skills for supporting students' development into professionals and citizens who are better prepared to succeed in diverse world. Details are provided at end of document.
Diversity and Inclusion

Summer I

nstitute (four days, June 20-23, 2017).

Summer 2017 online cohort exchanges and activities to maintain momentum from June institute and to prep for August course redesign workshop.

Diversity and Inclusion

Camp Course Design workshop to apply insights from the Summer

I

nstitute to revisions in selected course for

Fall

Quarter

delivery (two days, August 29-30, 2017).

Two cohort gatherings during

Fall

Q

uarter as opportunities to share experiences and insights gained teaching redesigned courses.

Formative feedback and student assessments for redesigned courses during Fall Quarter from colleagues and students.

All-cohort showcase to debrief Fall Quarter experiences and to explore future directions (December 2017).
Program Outcomes
With the support of CTLT, OUDI and participant colleagues throughout the program as well as the experiences in the institute and workshops, participants will gain scholarly and personal insights into diversity and inclusivity as an educator in their discipline and as a member of the campus community. Artifacts that demonstrate that development include:
A well-informed, polished diversity statement.

A revised syllabus and course

materials for a

fall

2017 course

.

An "Inclusive Instruction Technique" description of a method implemented appropriate for the intended discipline. Template and examples will be provided.

A plan to assess the effectiveness of course elements and related student outcomes.
Eligibility
Tenure-line faculty and lecturers are welcome from all disciplines, including those not typically associated with diversity and inclusivity learning goals.
Applications
Applications are due Monday, March 27, 2017. All applicants will receive an email notification of their application status by Friday, March 31, 2017.
Selection Criteria
The goal is for up to 20 participants representing all colleges, including those not typically associated with diversity and inclusivity learning goals. The stronger proposals will:
Select a course for redesign that will enhance Cal Poly's inclusion efforts. Any course is eligible, but courses that have significant student enrollment, are regularly scheduled, are required in a program, and/or are General Education courses will have an advantage.

Select courses that are scheduled to be taught in Fall Quarter 2017.

Indicate participants' commitment to full participation the entire program calendar.
Stipends
All participants who successfully complete the program will receive a $1,500 stipend (subject to tax withholding) and will be eligible for additional funds to help defray costs for conference presentations related to program work.
Facilitators
Kari Mansager (OUDI), Denise Isom (Ethnic Studies) and Patrick O'Sullivan (CTLT).
​​​​​​Questions?
Contact Patrick O'Sullivan at CTLT (posulliv@calpoly.edu), Kari Mansager at OUDI (kmansage@calpoly.edu), or Denise Isom at OUDI (disom@calpoly.edu).
To Apply To 2017 Program(Applications closed)
Related Content