New Faculty
The CTLT provides a set of programs and services designed specifically to support new faculty at all ranks (lecturers and tenure line). Our scholarship-grounded services and programs supporting exemplary, state-of-the-art teaching, and we provide opportunities for faculty to connect with campus resources and one another throughout the year. This page describes resources, opportunities, and events designed for newer faculty. If you would like to join the Newer Faculty listserv for periodic updates and notices of opportunities, please contact the CTLT.
Faculty Community Breakfast - Winter 2018
TBD
The Center for Teaching, Learning & Technology invite all faculty and teaching staff to our Faculty Community Breakfast for winter quarter. The event will be held on TBD. This quarter's topic is "Students In Distress" which focuses on the increasing rates of social and emotional challenges our students face during their campus experiences. This is an opportunity to better understand what might be going on in the minds of the young people showing up in our classrooms. Enjoy breakfast and find out ways to become better prepared to provide appropriate support and referrals to campus professionals.
 Faculty Evaluation Process
Supportive Resources
Session materials to download:
New Faculty Orientation | Fall 2018
TBD
New faculty (all tenure-line and all lecturers) are enthusiastically invited to join us and your new colleagues for your New Faculty Orientation scheduled for TBD.
Planning for Success: Your First Quarter at Cal Poly
Slide Deck from New Faculty Orientation
This document contains selected "need to know" information essential to a smooth beginning to your Cal Poly career, including important dates, essential administrative tasks for the first week, privacy rules for student information, campus resources for students, key policies, and faculty support resources to help you succeed. 
Learn by Doing - Cal Poly's Signature Pedagogy
Slide Deck from New Faculty Orientation
Learn by Doing is Cal Poly's motto, but what does it really mean to incorporate LxD in the classroom? This slide deck provides an overview of the Learn by Doing philosophy and strategies for how to integrate Learn by Doing into your courses.
Teaching Resources
The CTLT's online teaching resources can help instructors design their courses and develop authentic assignments and assessments. We add resources frequently, so check back often. 
Learning Communities
The CTLT offers several yearlong learning communities open to all Cal Poly faculty and staff. New faculty are encouraged to participate, as the learning communities provide practical information along with substantive engagement and collaboration. The "Getting a Good Launch" learning community is especially designed for newer faculty.
Workshops
Along with yearlong learning communities, the CTLT offers workshops on a great range of teaching matters. Workshop announcements appear in the weekly CTLT newsletter and are available on our workshops page. Check frequently for updates. New faculty are also encouraged to browse our workshops-by-request list. We are happy to schedule and tailor a workshop for a cohort of faculty.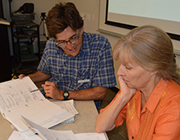 Consultations
The CTLT offers one-on-one, confidential consultations that enable all Cal Poly faculty (full or part-time) to enhance their teaching effectiveness, to discuss opportunities for teaching innovation, and to implement new pedagogies. Consultations provide a mechanism for faculty to reflect upon their teaching practice and to foster a community of outstanding teachers at CalPoly.
Office of the Registrar
For forums and training guides regarding student registration, course waitlists & permissions, submitting grades, The Family Educational Rights and Privacy Act (FERPA) and much more, please visit The Office of the Registrar website. 
CSU Red Folder - Students in Distress
The CSU Red Folder is a reference guide that contains safety tips and contact information for a wide variety of emergency campus resources to immediately help any student in distress, or who is self-dangerous or a threat to others. Access to the CSU Red Folder is available through your Cal Poly Portal, under the Staff and Training Tab.
Related Content