Engaging in Writing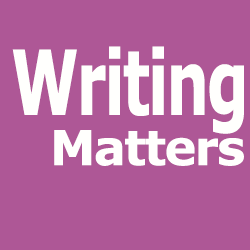 We write to do our work, to communicate, for scholarship, for grants. We use writing to help students learn in classrooms, and teach writing specific genres to students who aspire to be a member of our disciplines. Why not join in rich and rewarding conversations with colleagues who use writing in these myriad ways?  Would you like new ideas for infusing your curriculum with meaningful writing projects that move students' understanding forward? Would you like dedicated writing time to work on that chapter, article, grant proposal, or creative project? Check out the offerings below to build your repertoire as a writer, scholar, and teacher of writing in your field. Consultations with Dr. Dianna Winslow, Assistant Director & Writing Instruction Specialist, are always available to you, your teaching cohort, or your entire department. 




Intro to Writing in the Disciplines
This five-part workshop is designed to create space for faculty to consider the ways in which writing operates within their discipline and to develop ideas around how best to effectively and efficiently embed writing into their courses. Intro to Writing in the Disciplines provides evidence-based teaching strategies for using writing to enhance students' learning, critical thinking, and written communication practices. Whether you currently use writing in your curriculum or not, this workshop invites you to consider the following: 
The benefits of "low stakes" and "high stakes" writing activities
Genres appropriate to your discipline that may help prepare students for professional success
Characteristics of effective writing assignment design
The use of peer review to build class community and deepen critical engagement
Strategies for incorporating revision and reflection into the writing process
This is an ideal opportunity to learn how to introduce your students to your discipline-specific writing practices and increase their critical and reflective thinking. 
 Find out more on the Intro to Writing in the Disciplines webpage
This workshop series is intended as a precursor to an upcoming CTLT & OWLI offering entitled "Course Redesign with Writing in Mind," which aligns with campus efforts to expand Graduation Writing Requirement (GWR) courses across the curriculum. 
Assignment and Assessment Design with Academic Integrity in Mind
ThursDAYS,10:30-11:30aM
July 22, 29, & Aug 5 & 12, 2021
Description and Registration link coming soon!




Summer Writing Retreats
If some dedicated time and peer support will help you make significant progress as you hammer out that chapter, article, grant proposal, or creative project, then the CTLT's multi-day summer writing retreats are designed for you. We provide encouragement, consultation, and opportunities for collegial feedback. You supply the words and mutual support. Participants spend each day working on individual writing projects, whether you are at the conceptual stage, the polishing stage or any stage in between. You will also have opportunities to give and receive peer-to-peer feedback from colleagues at the beginning and end of the day and at a noontime check in.
More details and summer registration forms are on the Summer Writing Retreats web page.
Questions?
For questions or comments about CTLT's programs and services related to writing instruction, contact Dr. Dianna Winslow, Assistant Director & Writing Instruction Specialist. 
Related Content