Interdisciplinary Colloquium on Teaching and Assessing Writing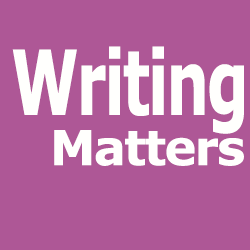 Writing can be a powerful tool for learning for students in all disciplines—agriculture, architecture, business, engineering, liberal arts, math or the sciences. Effective writing has long been at the core of Cal Poly's Student Learning Objectives, and is consistently on the top of employers' list of the most valued abilities of college grads. For all of these reasons, we have created an opportunity for Cal Poly educators to share with each other our most effective practices for using writing to support learning, for using unique disciplinary writing practices to support writing instruction, and for sharing ways to create and assess writing-rich environments and assignments.  
Interdisciplinary Colloquium on Teaching and Assessing Writing
12:30pm-5pm, Monday, September 11, 2017 
Overview 
Our intention is to create an opportunity for educators across campus to exchange innovative and effective writing instruction and evaluation practices, and to bring together colleagues who are invested in developing students' writing practices throughout their degree work at Cal Poly. This event is co-sponsored by the CTLT and the English Department.
The program will be available before the Colloquium.
All-Campus Call for Proposals 
proposal Deadline: Friday, August 11, 2017
Cal Poly educators with expertise and experience with teaching writing, and teaching with writing, are invited to submit a proposal to be part of a round table presentation that offers your colleagues a successful model for the teaching of/with writing. Each panelist will have approximately 10 minutes to share their ideas and practices, plus about five minutes to engage in discussion about your ideas. Panelists will be grouped by themes and panels themselves will be highly interactive so participants can examine your ideas and prepare to try them out.  
 
Those whose proposals are accepted will be expected to provide a final version of your presentation. The final version will include step-by-step descriptions of your activity along with other details that provide guidance for colleagues to follow as they try out the practice in a broad range of disciplines and course types. 
Possible Models of Practice
A model of practice might involve (but is not limited to) the following: 
Teaching writing 
Helping students understand writing as a process and not just a product 
Writing as a means of problem solving, troubleshooting, or applying content knowledge 
Writing as reflection on learned materials and/or disciplinary context 
Uses for student-centered, informal writing vs teacher-centered, formal writing assignments 
Making use of student journals, e-postings, and/or portfolios 
Collaborative work to develop and implement cross-disciplinary writing assignments 
Writing in flipped and/or online courses
Assessing student writing 
Methods, rationales and/or philosophies that inform your evaluation of student writing 
Written and/or verbal peer review practices, and how you teach those practices 
Hand-written, verbal or electronic teacher feedback on written projects 
How students are involved in the evaluation of their own writing (meta-cognitive reflections, analysis, etc.) 
Students reactions to having their writing evaluated 
Evaluation techniques for graduate students that differ from those for undergraduates 
Evaluating group writing projects 
You might also have practices to share that address: 
The role of CTLT, the University Writing Center, and/or other writing resources, in your classes 
Ideas for bridging the gap between students' first-year writing experience and the Writing Proficiency Exam or the Graduate Writing Requirement
Proposals
Proposals are brief, and are primarily to provide the selection committee with a clear, succinct description of: 
Your model, technique, activity—What are the components, materials necessary, stages or scaffolding of ideas? Is there a name for it? Or a common name for the technique or process? 
The context in which you use that practice—e.g., are students in lower or upper division GE or major courses? Or are they seniors working on a senior project? Graduate students? More specific groups with particular needs? 
The intention/outcome of the students' learning when they do this activity or assignment—perhaps in terms of addressing a common or difficult problem or developing a particularly important or challenging skill set? 
Deadline for proposals is Friday, August 11, 2017. Presenters will be notified by Friday, August 18, 2017. 
Questions?
Please contact Dianna Winslow (diwinslo@calpoly.edu), Writing Instruction Specialist at the CTLT, or Brian Bates, English Department (brbates@calpoly.edu ).
Related Content