Engaging in Writing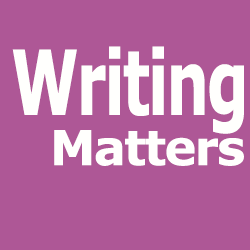 We write to do our work, to communicate, for scholarship, for grants. We use writing to help students learn in classrooms, and teach writing specific genres to students who aspire to be a member of our disciplines. Why not join in rich and rewarding conversations with colleagues who use writing in these myriad ways?  Would you like new ideas for infusing your curriculum with meaningful writing projects that move students' understanding forward? Would you like dedicated writing time to work on that chapter, article, grant proposal, or creative project? Check out the offerings below to build your repertoire as a writer, scholar, and teacher of writing in your field. Consultations with Dr. Dianna Winslow, Assistant Director & Writing Instruction Specialist, are always available to you, your teaching cohort, or your entire department. 
Resources for Teaching with Writing
These writing resources offer guidelines for developing purposeful writing assignments; using writing to explore content and foster learning; providing effective feedback; and managing the paper load. Additionally, the CTLT is happy to consult with instructors and programs on any writing-related issues. To arrange for an individual consultation or to coordinate a workshop for your program, please contact Dr. Dianna Winslow, CTLT Assistant Director and Writing Instruction Specialist.
Teaching with Writing: A Conversation Series
Look for these sessions in the CTLT newsletter throughout the academic year. Join CTLT Writing Instruction Specialist Dianna Winslow for one or more of these informal lunchtime Zoom conversations to pick up some handy ideas for using writing in any class you teach. Lunching while meeting is encouraged.
Topics for past sessions have included: 
These discussions are grounded in written communication scholarship, which confirms writing as an excellent tool for students to learn, reflect on, and apply course concepts, understand how specific disciplinary writing conventions work, develop the ability to transfer their knowledge from one learning context to another, and communicate disciplinary knowledge with non-disciplinary audiences.
Assignment and Assessment Design to Promote Academic Integrity
This workshop builds faculty knowledge about course design factors that in turn build student self-efficacy and increase the promotion of academic integrity. Assignment and Assessment Design to Promote Academic Integrity reviews evidence-based teaching strategies for designing or revising course assignments to enhance students' learning, critical thinking, and reflection practices. The workshop includes support for creating activities and assignments that meet desired course learning outcomes, increase intrinsic motivation, and promote students' honest engagement with learning processes. In this workshop, participants will: 
Review and reflect on current course assignments and assessments 
Map course assignment scaffolding and arc
Design "low stakes" formative activities and assignments to mediate single "high stakes" summative assessments
Create materials to build class community and deepen critical engagement
Participate in peer-review of assignment designs with other participants
Design assessment rubrics for instructor reflection and transparent teaching, as well as efficient and consistent grading
Find out more on the Assignment and Assessment Design to Promote Academic Integrity webpage.
Writing in the Disciplines
This workshop is offered in partnership with the Office of Writing and Learning Initiatives and is designed to create space for faculty to explore how writing operates within their disciplines and to develop writing learning outcomes for their courses.  
Whether or not you currently embed writing into your curriculum, this workshop invites you to consider the following:  
Writing in the discipline as a high impact practice 
Genres associated with your discipline that may help prepare students for professional success 
Nationally recognized practices in writing instruction 
Characteristics of effective writing assignment design, including the benefits of "low stakes" and "high stakes" writing activities 
The use of peer review to build community and deepen critical engagement 
Strategies for incorporating revision and reflection into the writing process 
This workshop aligns with campus efforts to expand Graduation Writing Requirement (GWR) courses across the curriculum and includes information on the GWR course proposal process.
Find out more on the Writing in the Disciplines webpage. 
Faculty Writers' Accountability Group
This is a year-long writing community committed to making progress on scholarly writing and engaging with scholarship from the field of Rhetoric and Writing. The group will meet weekly with facilitator Dr. Dianna Winslow, CTLT Assistant Director and Writing Instruction Specialist. Each week there will be group check-ins to share the writing we have done for the week and will be doing for the following week. Dianna will offer one-on-one consultations as requested, and help form "buddy groups" for midweek encouragement when desired. We will use Tara Gray's Publish and Flourish book and other occasional resources to shape our weekly discussions about writing and research process. The newest edition of Gray's book will be provided to you free of charge by the CTLT once you enroll in the group.
As always, I'm excited to work with you, writer to writer.
Questions?
For questions or comments about CTLT's programs and services related to writing instruction, contact Dr. Dianna Winslow, Assistant Director & Writing Instruction Specialist. 
Related Content