Diversity & Inclusivity in the Classroom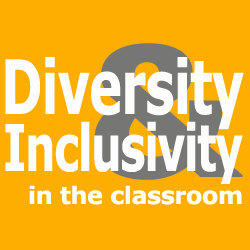 Inclusive and diverse learning environments are ones in which students feel that their contributions and perspectives are equally valued and respected. As Cal Poly works to increase the diversity of its faculty, staff, and student populations as well as create a more inclusive campus climate, instructors must understand the needs and behaviors of a broad range of students and develop techniques for working effectively with them and preparing them for employment globally. See the pages listed on the menu at the right for ideas and strategies on how to create and maintain inclusive and diverse classrooms. Below is a listing of various programs and services.
"Diversity and Inclusion in the Curriculum" program
Summer-Fall 2017
Creating a more diverse and inclusive campus is the responsibility of all campus community members, including faculty. This program is designed for Cal Poly educators who seek to weave diversity and inclusivity into their educational practices consistent with campus diversity learning objectives (DLOs). The program is intended to contribute to progress on two of Cal Poly's university-wide diversity imperatives: "enhance [the] campus climate" and "exemplify inclusive excellence in Learn by Doing, scholarship, teaching, and learning" (from the Cal Poly Diversity Strategic Framework). In this way, the program can help departments and colleges make progress on their inclusivity and diversity goals and to contribute to a more inclusive campus community. The integrated program described below introduces participants to the theory and practice of education for inclusiveness and provides support for applying those insights into course design and students' learning experiences.
---
Book Circles on Diversity and Inclusion
Quarterly
CTLT regularly sponsors (and co-sponsors) book circles on diversity and inclusion topics during the academic year and over summer. They are open to all campus educators: faculty at all ranks and staff with an educational role. These are designed to prompt informed discussions within the campus community and to stimulate valuable insights that can Cal Poly to become a more inclusive and diverse campus. Visit the CTLT's Book Circles page to see offerings for an upcoming quarter. Recent titles include:
---
Related Content