Fostering Diversity and Inclusion In Classrooms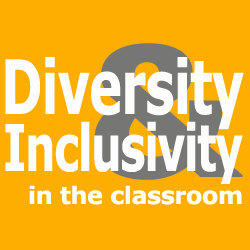 One of the important ways that Cal Poly educators can help all students to be successful is to foster a class environment that is conducive to learning by conveying the instructor's core commitments to inclusion and support of diversity. There are a number of ways to do that, and this page provides a range of resources and ideas to implement them for a collection of approaches. This page will be expanded over time, including access to examples of Cal Poly faculty's methods and recommendations.
Fostering Inclusion With Syllabus Statements
Syllabus statements on inclusion are a rather brief but potentially effective way to foster an inclusive classroom is for faculty to convey their personal and professional values for diversity and inclusion directly and clearly to students. Cal Poly's Academic Senate rules require all syllabi to include a statement on academic integrity and access to disability services for similar reasons -- to make sure that students in every class are informed about those topics. A syllabus statement on diversity and inclusion can accomplish much the same, and be particularly welcomed by diverse students.
Syllabus statements on inclusion can signal to all students, including those who may feel marginalized or out of place, how the instructor intends to create the class culture and to conduct the course in inclusive ways. Instructors can highlight their commitments not only at the outset or a course (e.g., the Day 1 syllabus review) but at one or more instances in the middle of an academic term. Restating personal and professional support for inclusion and diversity would also be timely whenever incidents in class, on campus, or elsewhere might undermine students' sense of inclusion and belonging at Cal Poly. 
Here are links to resources for crafting syllabus statements. These resource can be used for future syllabi and they can provide language for instructors who wish to verbally re-emphasize these values in their classrooms during a quarter in the wake of disruptive events that may prompt students to question their status.
Here are some ideas for engaging with students in the context of campus, local and national events:
Related Content